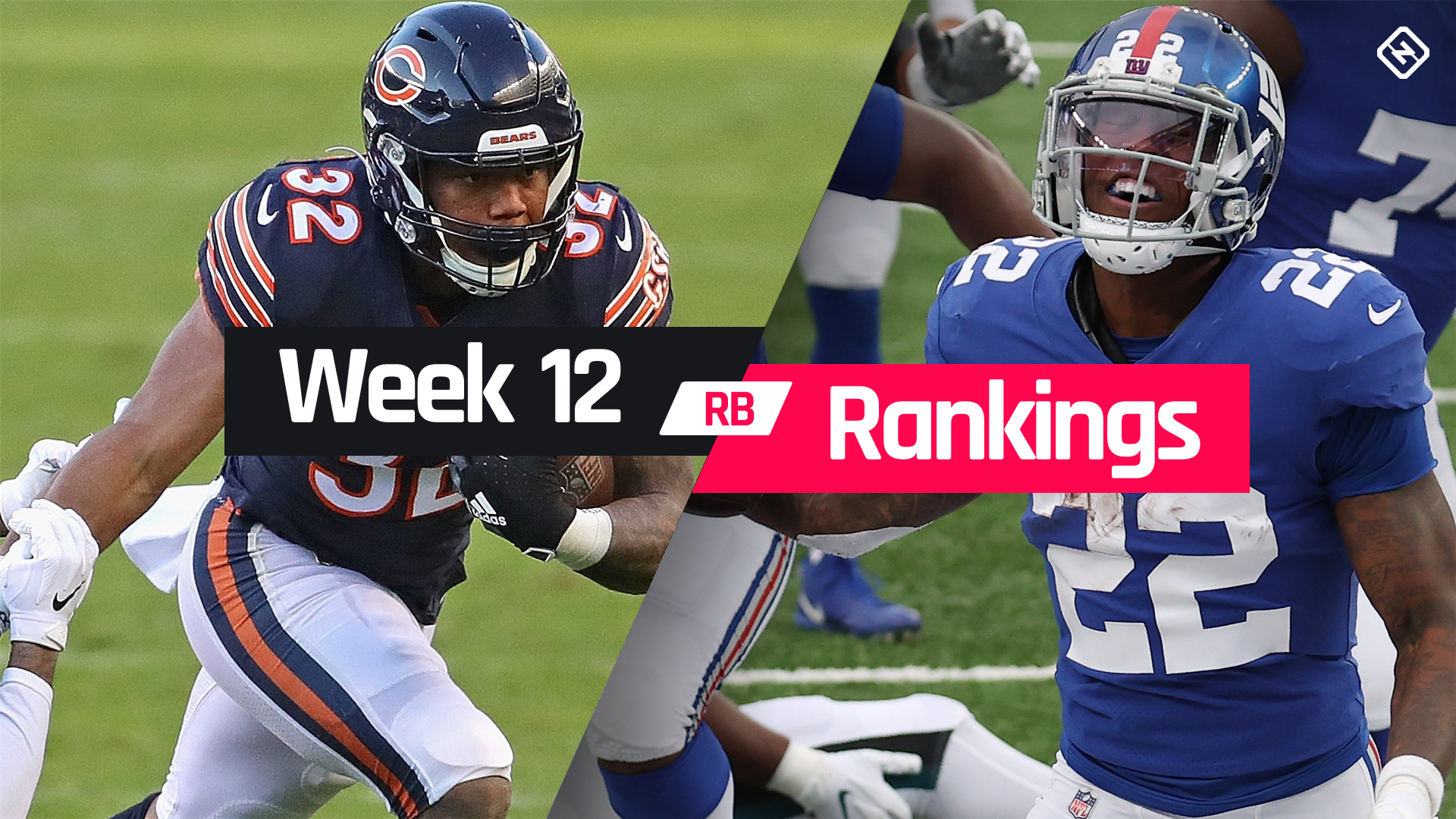 Rank
Player
1
Dalvin Cook, MIN vs. CAR
2
Alvin Kamara, NO @ DEN
3
Antonio Gibson, WAS @ DAL. Gibson has been one of the best rookie backs in the NFL this year. He has scored in four straight games and now has eight rushing TDs on the season. The Cowboys have allowed the second-most rushing yards in the league (1,260) and Gibson went off for 128 yards and a TD against them the last time these teams played. Start him confidently as an RB1.
4
James Robinson, JAX vs. CLE
5
Ezekiel Elliott, DAL vs. WAS
6
Todd Gurley, ATL vs. LV
7
Josh Jacobs, LV @ ATL
8
Aaron Jones, GB vs. CHI
9
Derrick Henry, TEN @ IND
10
David Montgomery, CHI @ GB. Montgomery should return from a concussion after his Week 11 bye. Green Bay has allowed 25.1 fantasy points per game (FPPG) to RBs this season, good for the third most in the NFL. Their 15 TDs allowed to the position ranks second most in the NFL, so while Montgomery doesn't rack up a ton of yardage, he will have a chance to find the end zone in this matchup.
11
Nick Chubb, CLE @ JAX
12
Miles Sanders, PHI vs. SEA
13
Damien Harris, NE vs. ARZ
14
Kenyan Drake, ARZ @ NE
15
Mike Davis, CAR @ MIN. It sounds like Christian McCaffrey will be out another week, so fantasy owners won't have his services until after the Panthers' Week 13 bye. In the meantime, Davis will continue to carry the load for the Panthers. He had 79 yards and a score on 21 touches against the Lions and he should have a chance to find the end-zone against vs. the Vikings, one of 10 teams in the league to allow over 1,000 rushing yards to RBs.
16
Salvon Ahmed, MIA @ NYJ. Ahmed seems to have taken over the Miami backfield with Myles Gaskin (knee) out. He out-touched Matt Breida 17-2 against the Broncos and managed to total 74 yards in that matchup. Now, Ahmed will get a chance to take on a Jets defense that has allowed the 12th-most FPPG to RBs this year (19.3) and has allowed the most catches to RBs out of the backfield (69). Given that Tua Tagovailoa seemed to like throwing to Ahmed on Sunday, that could boost his overall potential.
17
Duke Johnson, HOU @ DET. Johnson's two-game run as starter in place of David Johnson (concussion) has disappointed so far, as he has totaled just 89 yards on 27 touches in those contests. He'll get at least one more chance to start in Week 12 and should fare better against a Lions defense that has allowed a league-high 18 TDs to RBs and 29.1 FPPG to RBs.
18
Kareem Hunt, CLE @ JAX
19
Chris Carson, SEA @ PHI. Can Carson (foot) finally return from injury for the Seahawks? He seemed to be trending in the right direction ahead of Week 11, so he should have a chance to suit up in Week 12 on Monday night against an Eagles defense that has allowed 10 rushing TDs to RBs this season, tied for fifth most in the NFL.
20
Wayne Gallman, NYG @ CIN. In his past four games, Gallman has scored five times on the ground. He should continue to average the 15.5 touches per game he has gotten during that span with Devonta Freeman (ankle) on IR. The Bengals have allowed the fourth-most rushing yards to RBs this season (1,206) so Gallman could have his best game of the season, especially if the Giants can build and protect an early lead with Ryan Finley starting on the other side of the ball.
21
Giovani Bernard, CIN vs. NYG. Joe Mixon (foot) was placed on IR before the Bengals' Week 11 game, so that means Bernard will be a starter for at least another couple of weeks. The Giants have allowed the eighth-most FPPG to RBs (19.7) this year. including 524 receiving yards to the position, good for second most in the league. Bernard is better as a receiver — he has 147 rushing yards compared to 129 receiving yards in his past four games — so this matchup should benefit him and keep him in the volume-based RB2 category.
22
James Conner, PIT vs. BAL. James Conner found the end zone earlier in the season against Baltimore, but he had just 60 total yards on 18 touches in that contest. You're living a bit dangerously playing Conner against a good defense, but if the Ravens' two best run defenders, Calais Campbell and Brandon Williams, are out again, Conner should have a solid game. It's not like you can sit him with his volume, anyway (18 touches per game since Week 2).
23
Jonathan Taylor, IND vs. TEN. Another week, another new lead back for the Colts. It seemed like Taylor was falling out of favor a bit with the coaching staff after averaging just 10 touches per game in his previous three contests before Week 11. However, against the Packers, Taylor touched the ball 26 times and totaled 114 yards. So, it looks like he should stay the lead back against the Titans, a team that allows the fifth-most FPPG to RBs (20.9). That said, we'll need to be sure that he is, in fact, the lead back going forward before we move him back up into the top 20.
24
Clyde Edwards-Helaire, KC @ TB. Edwards-Helaire continues to work as the clear-cut top back for the Chiefs and doubled-up Le'Veon Bell in carries 14-7 against the Raiders and found the end zone twice. That will be a bit more difficult against a Buccaneers defense that has allowed a league-low 547 rushing yards to RBs this year. CEH could still find the end zone, but it's not a guarantee.
25
Ronald Jones II, TB vs. KC. Jones has four 100-plus-yard games on the ground this season, so he could threaten the Chiefs in this matchup. That said, the Chiefs did just limit Raiders RBs to 3.2 yards per carry, so Jones is just a fringe-RB2 for this one.
26
Adrian Peterson, DET vs. HOU. The Texans have allowed the most rushing yards to RBs this season at a mark of 1,458. With Matthew Stafford dealing with a thumb injury, the Lions should look to take advantage of Houston's weakness. That will be easier said than done with D'Andre Swift (concussion) likely set to miss the contest, but Peterson will split reps with Kerryon Johnson to replace him. Peterson has averaged just 2.9 yards per carry since Week 6, but he has out-touched Johnson 57-23 in that span. Johnson will continue to see work through the air, but Peterson should be viewed as the top scoring threat.
27
Gus Edwards, BAL @ PIT. Just when it looked like JK Dobbins was emerging as the Ravens' lead back, he landed on the COVID list along with Mark Ingram. Now, both are out for Thursday's game against the Steelers. As a result, Edwards will take over the lead back role for the Ravens again. Edwards will get volume, but he may have trouble putting up big numbers in a difficult matchup with the Steelers (14.2 FPPG to RBs, second fewest in the NFL). That said, he did rack up 87 yards and a TD the last time these two teams played, so perhaps he can repeat that performance and earn RB2 status again.
28
Raheem Mostert, SF @ LAR. Mostert (ankle) could return after their Week 11 bye, and he would upgrade their run game immediately. That said, the Rams allow just 15 FPPG to RBs, and if the 49ers decide to ease Mostert back into action after he has dealt with knee and ankle injuries this year, he could be more of a frustrating flex play in a tough matchup.
29
Kalen Ballage, LAC @ BUF. Ballage posted 71 total yards against the Jets, the fewest of his three-game Chargers career, but more important, he logged nine targets and seven catches during the game. Ballage should continue to get volume provided that Austin Ekeler (hamstring) doesn't return, and he has looked good carrying the load. That said, Anthony Lynn still likes to ride the hot hand at RB, so that could change at any time. Ballage is still a great flex option and could end up being an RB2 in PPR if he keeps seeing targets.
30
Melvin Gordon, DEN vs. NO. Against the Dolphins, Gordon broke out of a mini-funk and posted 84 yards and two TDs. It was his second two-score game of the season. Though the numbers looked good, it's worth noting a few things. First, Phillip Lindsay got one more carry than Gordon and put up a similar yardage total (82). Second, Gordon had a goal-line fumble that nearly proved critical for the Broncos. Finally, and most important, the Broncos are playing a Saints defense that has allowed just 12.5 FPPG to RBs, good for the fewest in the NFL. The Saints simply don't allow TDs to the position (just five on the season) so Gordon will have a tough time doing much in this matchup. Both he and Lindsay can be started as flexes, but it's hard to expect them to do much.
31
J.D. McKissic, WAS @ DAL. In his past three games, McKissic has been targeted a whopping 33 times and has caught 19 passes for 134 yards. He also has added 66 yards and a score on the ground. While he'll play second fiddle to Antonio Gibson in the running game, McKissic should continue to see a lot of pass-catching opportunities and will get a massive boost in PPR formats. McKissic is a worthwhile flex in standard while he's getting this volume, so don't be afraid to trust him moving forward.
32
Frank Gore, NYJ vs. MIA. Gore will have the backfield mostly to himself with La'Mical Perine (ankle) out, and he can put up decent stats against a Miami defense that has allowed the eighth-most rushing yards to RBs this season (1,046) and just let Melvin Gordon score twice on them.
33
Leonard Fournette, TB vs. KC
34
Kerryon Johnson, DET vs. HOU. With Swift out last week, Johnson had just 17 yards on six carries, but he added 21 yards on two catches and five targets. His best chance of being a solid flex play in PPR leagues. He's probably preferable to Adrian Peterson in PPR formats because of his upside there, but he may have fewer opportunities to expose a weak Texans run defense on the ground. That's why he's below Peterson but still falls into the flex range.
35
Zack Moss, BUF vs. LAC. In three games before the Bills bye, Moss scored three rushing TDs and out-touched Devin Singletary 19-10 in their final two games. It looks like Moss is the preferred goal-line back for the Bills and he should continue to see more work than Singletary. In a matchup against a Chargers defense that has allowed 19.1 FPPG to RBs and just let two Jets RBs score on them, Moss could have a chance to find paydirt again, though his yardage ceiling is low (he averages just under 42 yards per game).
36
Nyheim Hines, IND vs. TEN. When the Colts played the Titans a couple of weeks ago, Hines went off and totaled a career-high 115 yards and two TDs on 17 touches. The Titans will probably be better prepped to slow Hines' role in this one but because of his receiving upside, he can't be counted out in a favorable matchup against a Tennessee team that has allowed the third-most total TDs to the RB position this year (14).
37
Darrell Henderson, LAR vs. SF. The Rams backfield is tough to figure out right now, as Sean McVay seems to be intent on splitting carries between Henderson, Cam Akers, and Malcolm Brown. Henderson has been the most consistent overall, Brown got the goal-line carries last time the Rams played, and Akers led the team in carries. It's tough to say which player will be the top option, so in a matchup against a 49ers defense that has been solid against the run, it may be best to sit them unless you're desperate for a flex play.
38
Phillip Lindsay, DEN vs. NO. See Melvin Gordon.
39
Cam Akers, LAR vs. SF. See Darrell Henderson.
40
Chase Edmonds, ARZ @ NE
41
Devin Singletary, BUF vs. LAC. Singletary has averaged just five touches and 22 yards in his past two games. It seems that the Bills are content to use Zack Moss instead of him, so unless something changes coming out of the bye week, Singletary merely has the ceiling of a flex.
42
Malcolm Brown, LAR vs. SF. See Darrell Henderson.
43
Matt Breida, MIA @ NYJ
44
Jordan Wilkins, IND vs. TEN
45
Le'Veon Bell, KC @ TB. Bell found the end zone against the Raiders and had some impressive, vintage-looking runs. He can be a flex play in weaker matchups, but the Buccaneers clamp down on the run well. Make sure to sit him this week.
46
Carlos Hyde, SEA @ PHI. If Carson comes back to action, Hyde will go back to being a handcuff. After a few weeks off, Carson should return, barring a setback.
47
Tevin Coleman, SF @ LAR. Mostert isn't the only 49ers back that may return this week. Coleman (knee) has a shot at it, as well. Coleman has only played three games this year and has averaged just 2.4 yards per carry, but if he's available, he could be used as a goal-line hammer. He's not worth starting yet, but given the injury-prone nature of Mostert, Coleman is worth stashing.
48
Justice Hill, BAL @ PIT. With Mark Ingram and JK Dobbins on the COVID list, Hill will be the new top backup to Gus Edwards. Hill had 225 yards and two TDs on 58 carries as a rookie in 2019, but he has just one touch in 2020. He's probably a better receiver than Edwards, but he's nothing more than a low-level DFS dart throw.
49
Sony Michel, NE vs. ARZ. Rex Burkhead is believed to have suffered a torn ACL and will miss the rest of the season. That opens up a spot as part of a one-two punch with Damien Harris. Michel can fill that role if healthy, so we'll see if his quad is good enough to let him see the field in Week 12.
50
James White, NE vs. ARZ. White is another candidate to take on more touches after Burkhead's injury. He tied a season-high with nine targets against the Texans, so with Burkhead out, there may be more receiving work available for him. 
51
Jamaal Williams, GB vs. CHI
52
Latavius Murray, NO @ DEN
53
Jerick McKinnon, SF @ LAR
54
Rodney Smith, CAR @ MIN. Smith worked as the primary backup to Mike Davis in Week 11 with Christian McCaffrey (shoulder) out. He'll do the same thing once again with McCaffrey looking unlikely to play until after the Panthers' Week 13 bye.
55
Tony Pollard, DAL vs. WAS
56
Devontae Booker, LV @ ATL
57
Ty Johnson, NYJ vs. MIA
58
Dion Lewis, NYG @ CIN
59
Samaje Perine, CIN vs. NYG
60
Boston Scott, PHI vs. SEA
61
Alexander Mattison, MIN vs. CAR
62
Joshua Kelley, LAC @ BUF
63
Brian Hill, ATL vs. LV
64
Benny Snell, PIT vs. BAL
65
Jalen Richard, LV @ ATL
66
Darrel Williams, KC @ TB
67
Corey Clement, PHI vs. SEA
68
D'Onta Foreman, TEN @ IND
69
Troymaine Pope, LAC @ BUF
70
Jeremy McNichols, TEN @ IND