[ad_1]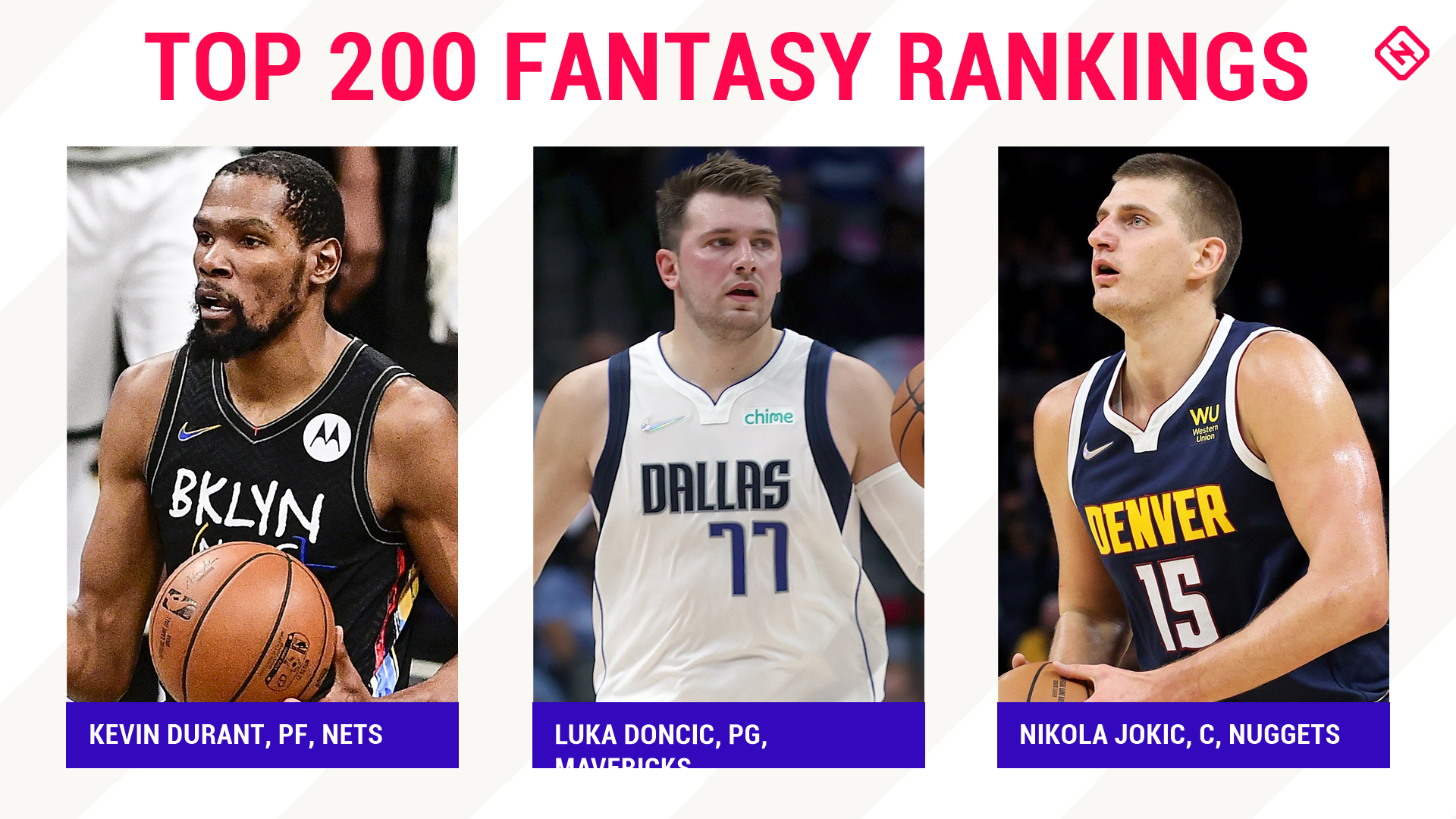 If you're feeling underprepared for your fantasy NBA draft, we have you covered with our top 200 fantasy basketball rankings for the 2021-'22 season. Should you take Nikola Jokic, Giannis Antetokounmpo, Luka Doncic, Kevin Durant, or James Harden with the No. 1 pick? How about if your draft slot is later in the first round ? Where do Lakers' teammates LeBron James, Anthony Davis, and Russell Westbrook rank? Once it gets deeper into the draft, which potential breakout players should you target? Our top 200 cheat sheet can help with the top-tier studs and the later-round sleepers.
Below, you can find each player accompanied by their current team, position eligibility, and position rank. Pay attention to which players are eligible at multiple positions, as that can help with roster flexibility and provide advantages in specific categories. 
DOMINATE YOUR DRAFT: 2021 fantasy basketball cheat sheet
Injuries, surprise busts, and even more surprising breakouts will happen this year. They always do. You can only prepare so much during your draft, but having a solid top 200 at your disposal — along with rankings for each individual position (which can be found directly below) — can go a long way toward feeling good about your roster and having some big holes when the season tips off on Tuesday, Oct. 19.
Good luck in 2021!
2021 FANTASY BASKETBALL RANKINGS:
Point guard | Shooting guard | Small forward | Power forward | Center
Fantasy Basketball Rankings 2021: Top 200 cheat sheet
Position eligibility based on ESPN settings
FANTASY SLEEPERS: One from each team | Top 10 draft steals | Best rookies
| | | | | |
| --- | --- | --- | --- | --- |
| Rank | Player | Team | Position | Position Rank |
| 1. | Nikola Jokic | DEN | C | C1 |
| 2. | Giannis Antetokounmpo | MIL | PF | PF1 |
| 3. | Luka Doncic | DAL | PG | PG1 |
| 4. | Kevin Durant | BKN | SF/PF | SF1 |
| 5. | James Harden | BKN | SG/PG | SG1 |
| 6. | Russell Westbrook | LAL | PG | PG2 |
| 7. | Stephen Curry | GSW | PG | PG3 |
| 8. | Karl-Anthony Towns | MIN | C | C2 |
| 9. | Damian Lillard | POR | PG | PG4 |
| 10. | LeBron James | LAL | SF/PF/PG | SF2 |
| 11. | Jayson Tatum | BOS | SF/PF | SF3 |
| 12. | Trae Young | ATL | PG | PG5 |
| 13. | Joel Embiid | PHI | C | C3 |
| 14. | Domantas Sabonis | IND | C | C4 |
| 15. | Bam Adebayo | MIA | C | C5 |
| 16. | Jimmy Butler | MIA | SF/SG | SF4 |
| 17. | Bradley Beal | WAS | SG | SG2 |
| 18. | Paul George | LAC | SF | SF5 |
| 19. | Nikola Vucevic | CHI | C | C6 |
| 20. | Anthony Davis | LAL | PF/C | PF2 |
| 21. | Julius Randle | NYK | PF | PF3 |
| 22. | Rudy Gobert | UTA | C | C7 |
| 23. | Chris Paul | PHX | PG | PG6 |
| 24. | De'Aaron Fox | SAC | PG | PG7 |
| 25. | Khris Middleton | MIL | SF/SG | SF6 |
| 26. | Zach LaVine | CHI | SG | SG3 |
| 27. | LaMelo Ball | CHA | PG | PG8 |
| 28. | Zion Williamson | NOP | PF | PF4 |
| 29. | Devin Booker | PHX | SG/PG | SG4 |
| 30. | Donovan Mitchell | UTA | SG | SG5 |
| 31. | Kyrie Irving | BKN | PG | PG9 |
| 32. | Shai Gilgeous-Alexander | OKC | SG/PG | SG6 |
| 33. | Clint Capela | ATL | C | C8 |
| 34. | Fred VanVleet | TOR | PG/SG | PG10 |
| 35. | Jrue Holiday | MIL | SG/PG | SG7 |
| 36. | Jaylen Brown | BOS | SG/SF | SG8 |
| 37. | Deandre Ayton | PHX | C | C9 |
| 38. | Malcolm Brogdon | IND | PG/SG | PG11 |
| 39. | Christian Wood | HOU | PF/C | PF5 |
| 40. | Tobias Harris | PHI | SF/PF | SF7 |
| 41. | Ja Morant | MEM | PG | PG12 |
| 42. | Ben Simmons | PHI | PG | PG13 |
| 43. | Jonas Valanciunas | NOP | C | C10 |
| 44. | CJ McCollum | POR | SG/PG | SG9 |
| 45. | Kyle Lowry | MIA | PG | PG14 |
| 46. | DeMar DeRozan | CHI | SG/SF | SG10 |
| 47. | Michael Porter Jr. | DEN | SF/PF | SF8 |
| 48. | Gordon Hayward | CHA | SF | SF9 |
| 49. | Cade Cunningham | DET | PG | PG15 |
| 50. | Terry Rozier | CHA | SG/PG | SG11 |
| 51. | Dejounte Murray | SAS | PG | PG16 |
| 52. | Myles Turner | IND | C/PF | C11 |
| 53. | Brandon Ingram | NOP | SF/PF | SF10 |
| 54. | John Collins | ATL | PF | PF6 |
| 55. | OG Anunoby | TOR | SF/PF | SF11 |
| 56. | Richaun Holmes | SAC | C | C12 |
| 57. | Anthony Edwards | MIN | SG | SG12 |
| 58. | Lonzo Ball | CHI | PG | PG17 |
| 59. | Caris LeVert | IND | SG/SF | SG12 |
| 60. | Jarrett Allen | CLE | C | C13 |
| 61. | Mikal Bridges | PHX | SF/SG | SF12 |
| 62. | Jalen Suggs | ORL | PG | PG18 |
| 63. | Pascal Siakam | TOR | PF | PF7 |
| 64. | Evan Mobley | CLE | PF/C | PF8 |
| 65. | Miles Bridges | CHA | SF/PF | SF13 |
| 66. | Darius Garland | CLE | PG/SG | PG19 |
| 67. | Mike Conley | UTA | PG | PG20 |
| 68. | Draymond Green | GSW | PF | PF9 |
| 69. | Klay Thompson | GSW | SG | SG13 |
| 70. | Jerami Grant | DET | PF/SF | PF10 |
| 71. | Jusuf Nurkic | POR | C | C14 |
| 72. | Jalen Green | HOU | SG | SG14 |
| 73. | Jamal Murray | DEN | PG/SG | PG21 |
| 74. | Jonathan Isaac | ORL | PF/SF | PF11 |
| 75. | Jaren Jackson Jr. | MEM | PF/C | PF12 |
| 76. | Spencer Dinwiddie | WAS | PG/SG | PG22 |
| 77. | Andrew Wiggins | GSW | SF/SG | SF13 |
| 78. | Marcus Smart | BOS | PG/SG | PG23 |
| 79. | Kemba Walker | NYK | PG | PG24 |
| 80. | Kristaps Porzingis | DAL | C/PF | C15 |
| 81. | Kelly Olynyk | DET | PF/C | PF13 |
| 82. | Robert Covington | POR | PF/SF | PF14 |
| 83. | Bogdan Bogdanovic | ATL | SG/SF | SG15 |
| 84. | Devonte' Graham | NOP | PG/SG | PG25 |
| 85. | Norman Powell | POR | SF/SG | SF14 |
| 86. | RJ Barrett | NYK | SG/SF | SG16 |
| 87. | D'Angelo Russell | MIN | PG/SG | PG26 |
| 88. | Chris Boucher | TOR | C/PF | C16 |
| 89. | Buddy Hield | SAC | SG/SF | SG17 |
| 90. | Collin Sexton | CLE | SG/PG | SG18 |
| 91. | Tyrese Haliburton | SAC | PG/SG | PG27 |
| 92. | Harrison Barnes | SAC | PF/SF | PF15 |
| 93. | Brook Lopez | MIL | C | C17 |
| 94. | Dennis Schroder | BOS | PG | PG28 |
| 95. | John Wall | HOU | PG | PG29 |
| 96. | Mason Plumlee | CHA | C | C18 |
| 97. | Mitchell Robinson | NYK | C | C19 |
| 98. | PJ Washington | CHA | PF | PF17 |
| 99. | Robert Williams III | BOS | C | C28 |
| 100. | Kawhi Leonard | LAC | SF | SF15 |
| 101. | Kevin Porter Jr. | HOU | SG/PG | SG19 |
| 102. | Kyle Anderson | MEM | SF/PF | SF16 |
| 103. | Evan Fournier | NYK | SG/SF | SG20 |
| 104. | Malik Beasley | MIN | SG/SF | SG21 |
| 105. | Khem Birch | TOR | C | C29 |
| 106. | Isaiah Stewart | DET | C | C30 |
| 107. | T.J. Warren | IND | SF | SF17 |
| 108. | Jakob Poeltl | SAS | C | C31 |
| 109. | Keldon Johnson | SAS | SF/PF | SF18 |
| 110. | Reggie Jackson | LAC | PG | PG30 |
| 111. | Nickeil Alexander-Walker | NOP | SG | SG22 |
| 112. | T.J. McConnell | IND | PG | PG31 |
| 113. | Saddiq Bey | DET | SF | SF19 |
| 114. | Thomas Bryant | WAS | C | C31 |
| 115. | De'Andre Hunter | ATL | SF | SF20 |
| 116. | Derrick White | SAS | PG/SG | PG32 |
| 117. | Kyle Kuzma | WAS | PF/SF | PF16 |
| 118. | Jordan Clarkson | UTA | SG | SG23 |
| 119. | Kevin Huerter | ATL | SG/SF | SG24 |
| 120. | Larry Nance Jr. | POR | PF | PF17 |
| 121. | Chuma Okeke | ORL | PF | PF18 |
| 122. | Al Horford | BOS | PF/C | PF19 |
| 123. | Markelle Fultz | ORL | PG | PG33 |
| 124. | Steven Adams | MEM | C | C32 |
| 125. | Aaron Gordon | DEN | PF | PF20 |
| 126. | Bojan Bogdanovic | UTA | PF/SF | PF21 |
| 127. | James Wiseman | GSW | C | C33 |
| 128. | Tim Hardaway Jr. | DAL | SG/SF | SG25 |
| 129. | Joe Harris | BKN | SG/SF | SG26 |
| 130. | Duncan Robinson | MIA | SG/SF | SG27 |
| 131. | Serge Ibaka | LAC | PF/C | PF22 |
| 132. | Derrick Rose | NYK | PG/SG | PG34 |
| 133. | Rui Hachimura | WAS | PF/SF | PF23 |
| 134. | Darius Bazley | OKC | SF/PF | SF21 |
| 135. | Joe Ingles | UTA | SF/SG/PG | SF22 |
| 136. | Marvin Bagley III | SAC | PF | PF24 |
| 137. | Will Barton | DEN | SF | SF23 |
| 138. | Tyler Herro | MIA | SG/PG | SG28 |
| 139. | Josh Hart | NOP | SG/SF | SG29 |
| 140. | Doug McDermott | SAS | SF/PF | SF23 |
| 141. | Montrezl Harrell | WAS | PF/C | PF24 |
| 142. | Scottie Barnes | TOR | PF/SF | PF25 |
| 143. | Dorian Finney-Smith | DAL | SF/PF | SF24 |
| 145. | Luguentz Dort | OKC | SG/SF | SG30 |
| 146. | Jae'Sean Tate | HOU | SF | SF25 |
| 147. | Dillon Brooks | MEM | SG/SF | SG31 |
| 148. | Thaddeus Young | SAS | SF/PF/C | SF26 |
| 149. | Goran Dragic | TOR | PG | PG36 |
| 150. | Marcus Morris Sr. | LAC | SF/PF | SF27 |
| 151. | Kelly Oubre Jr. | CHA | SF/PF | SF28 |
| 152. | Coby White | CHI | PG | PG37 |
| 153. | Cole Anthony | ORL | PG | PG38 |
| 154. | Monte Morris | DEN | PG | PG39 |
| 155. | Wendell Carter Jr. | ORL | C | C34 |
| 156. | Mo Bamba | ORL | C | C35 |
| 157. | Gary Trent Jr. | TOR | SG/SF | SG32 |
| 158. | Daniel Theis | CHI | PF/C | PF26 |
| 159. | Nerlens Noel | NYK | C | C36 |
| 160. | Matisse Thybulle | PHI | SF/SG | SF29 |
| 161. | Royce O'Neale | UTA | SF/PF | SF30 |
| 162. | Brandon Clarke | MEM | PF/C | PF27 |
| 163. | Cory Joseph | DET | PG | PG40 |
| 164. | Victor Oladipo | MIA | SG | SG33 |
| 165. | Josh Giddey | OKC | PG/SG | PG41 |
| 166. | Ivica Zubac | LAC | C | C37 |
| 167. | Seth Curry | PHI | SG/PG | SG34 |
| 168. | Derrick Favors | OKC | C/PF | C38 |
| 169. | Daniel Gafford | WAS | C | C39 |
| 170. | Danilo Gallinari | ATL | PF/SF | PF28 |
| 171. | Andre Drummond | PHI | C | C40 |
| 172. | Bobby Portis | MIL | PF | PF29 |
| 173. | Alperen Sengun | HOU | C | C41 |
| 174. | Franz Wagner | ORL | SF | SF31 |
| 175. | Eric Bledsoe | LAC | SG/PG | SG35 |
| 176. | Tyrese Maxey | PHI | SG | SG36 |
| 177. | Kenyon Martin Jr. | HOU | SF | SF32 |
| 178. | Killian Hayes | DET | PG | PG42 |
| 179. | Blake Griffin | BKN | PF | PF30 |
| 180. | Enes Kanter | BOS | C | C42 |
| 181. | Donte DiVincenzo | MIL | PG/SG | PG43 |
| 182. | Lauri Markkanen | CLE | PF | PF31 |
| 183. | Talen Horton-Tucker | LAL | SG/SF | SG37 |
| 184. | Aleksej Pokusevski | OKC | PF | PF32 |
| 185. | Terance Mann | LAC | SF | SF33 |
| 186. | Patrick Williams | CHI | SF/PF | SF34 |
| 187. | Jae Crowder | PHX | PF/SF | PF33 |
| 188. | Isaiah Roby | OKC | PF | PF34 |
| 189. | Jalen Brunson | DAL | PG | PG44 |
| 190. | Josh Richardson | BOS | SG/SF | SG38 |
| 191. | Ricky Rubio | CLE | PG | PG45 |
| 192. | Kendrick Nunn | LAL | SG | SG39 |
| 193. | Delon Wright | ATL | PG/SG | PG46 |
| 193. | Jaden McDaniels | MIN | SF | SF35 |
| 194. | Trevor Ariza | LAL | SF | SF36 |
| 195. | Jonathan Kuminga | GSW | SF/PF | SF37 |
| 196. | Jeff Green | DEN | PF | PF35 |
| 197. | Cody Zeller | POR | C | C43 |
| 198. | Facundo Campazzo | DEN | PG | PG47 |
| 199. | Naz Reid | MIN | C | C44 |
| 200. | Jeremy Lamb | IND | SG/SF | SG40 |


[ad_2]

Source link